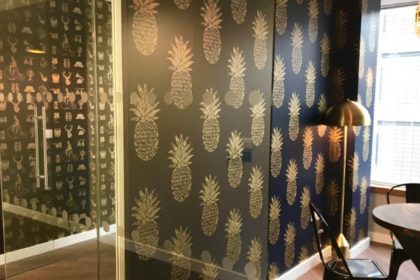 Following recent expansion, we have relocated our Liverpool headquarters to a central location in The Plaza on Old Hall Street.
Our new 2000 sq. ft. offices are modern and purpose-built with an emphasis on our company's culture. The main office is chic and contemporary, with room for further expansion and each meeting space has been designed to embody a unique visual theme.
Our Churchill Suite offers all the sophistication of a 1940's gentleman, complete with bowler hat light fittings and a penny-farthing patterned feature wall. Next door, the Pineapple Room pays homage to eternal summer with a fruity pendant chandelier and sunny golden accents.
Both spaces are tailor-made to suit business meetings and interviews alike, with comfortable seating and striking, modernistic décor.
We feel that working within a comfortable environment has a very positive affect on productivity. We have spent a lot of time designing our new office in order to cultivate a congenial workspace and create an atmosphere that encourages our employees to operate at their best.
We are proud to have watched the Liverpool office grow from 2 employees to now 17 in the past two years and more importantly grow within this fantastic city.
This move occurs in advance of plans for further expansion, it doesn't stop here. The move to the Plaza will be a catalyst for even more growth, so we have some exciting times ahead.