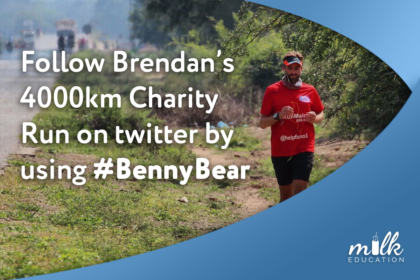 Having already ran over 1000km to fundraise for Schools in Mulanje, former Milk Education supply teacher Brendan Rendall is now set to run the length of Africa in order to raise money for brand new School Accommodations in Malawi.
Starting June 1st, Brendan will be running Africa Coast to Coast, from Namibia to Mozambique, to raise money for FOMO (Friends of Mulanje Orphans). The entire run spans approximately 4000 kilometers – the equivalent of 94 marathons – and he plans to cross the finish line in roughly three months.
In July 2016, Brendan raised over £35,000 to build an arts and science block for a secondary school in Mulanje, by running across Malawi. He is now raising the bar even higher and aims to gather £75,000 in donations with plans to build new School Accommodations for boys age 11-19.
Winner of both the 'Sporting Hero' and 'Gold' Awards from the Believe in Somerset Awards in 2017, Brendan is determined to succeed once more. "On the back of the Malawi run," he said, "I still wanted to do more. FOMO has a girls' hostel, so now we need to fund a boys' block."
Donations are now open!
To lend your support to the cause, donate online at MyDonate and help make a difference.