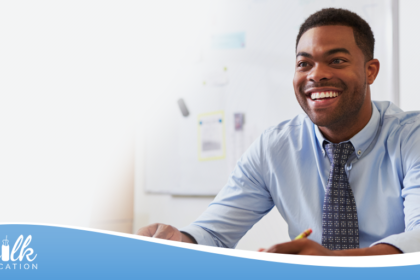 As changes in Education continue to alter the teaching job market, more and more educators are making the decision to leave their teaching posts and enter the world of recruitment. As experts in Education recruitment, Milk sat down with one such teacher-turned-recruiter, Stephanie Wiswall, to discuss what motivated her to make the change.
Q: Tell us a little bit about your background.
A: I've been a teacher for the last ten years and I absolutely love working with children. I've worked in nurseries, SEND schools, mainstream schools and private schools. In my last school, our supply agency would just send anybody in – regardless as to whether they were suitable for the school – and they would come in for the first week and not come back the following Monday.
That's when I started to realise how important it was to send the right person in and really thought about how much of a difference I could make as a consultant.
Q: What made you make the move from teaching?
I came into teaching to help children learn and due to budget cuts and staff shortage in my school, I found myself unable to teach effectively. Really you can't fix staffing problems as a teacher, you're relying on other people to fix things. I wanted to be more proactive in making a difference – wanted to thrive in an environment where I could use my personality to help these children get the quality of education they deserve.
As a teacher you never really see the light of day. Conversation with other adults doesn't come along very often and there's only so much you can talk about Peppa Pig or Paw Patrol before you start to lose your mind!
Q: Which skills from your time as a teacher do you feel benefit you in recruitment?
I'm a planner and I'm used to having a big workload, so my desk is quite organised. I have my own way of doing things, but you've got to prioritise in teaching otherwise you'll come unstuck. If I could manage planning lessons and keeping track of homework, I can manage anything recruitment has to throw at me.
My inner knowledge of school operations helps too. The admin staff change their attitude once they learn that my background is in teaching – they understand then that I'm there to help and that I know how busy they are, so they trust me to do a good job in understanding their requirements.
Q: How valuable do you feel your experience as a teacher was coming into your new role?
Very valuable actually. Coming into this role, I didn't have the sales experience that some of the other consultants do, but I think that makes us a really good team. Even though the other consultants have more experience in sales, I know first-hand from being in schools what is needed, so we all offer something different that works to create a really dynamic team atmosphere.
It's a nice team and I feel I'm quite lucky. I think somewhere else, I may not have gotten the same support as I get with Milk. It's a nice positive place to be. I think every teacher needs to realise that. My friends ask me 'what even is there outside of teaching?' and I say 'Life. I've found a life after teaching and it's a happy one.'
Here I get praised for a job well done, which is quite rare in teaching. There's a real sense of comradery that you don't quite ever get working in a school because of how solitary your lessons tend to be. Here you get praised all the time and it's a very positive environment.
Q: What is the favourite about being with Milk Education?
I love interviewing candidates. I like talking to people, I like meeting people and I like sharing experiences. It makes it a bit more personable. When I've been through supply agencies in the past, I've said things to the consultants and they've looked at me funny, but here I can really engage with the candidates and say, 'oh yes I've done that too!'
I love going out to schools for visits in person and I love the dogs. I love having all of the animals in the office. I love talking to the fish. I just like the fact that it's a happy, positive place to be. They look after you. Everybody I know who has come out of teaching wants to work here.
The competition is good too. I didn't think I'd like it, but I do. I'm not trying to compete, but if I realise I'm in the lead on the chalkboard, I want to stay there. It's bringing out the competition in me and it's made me a stronger person. My teaching friends have told me that I seem happier and more like myself since I have started working here. I've gone from the most miserable Steph in the world to a brighter lighter me!
Are you thinking of making the move from teaching into recruitment? Like the sound of us? Milk Education would love to have a chat with you and help you to plan your move. Get in touch with us at our Liverpool headquarters on 0151 519 0800.