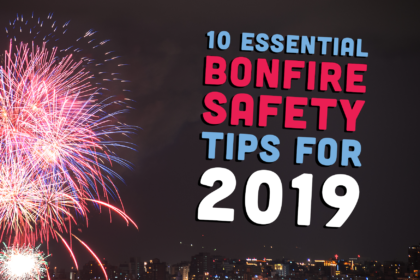 It's that time of year again! Tonight, an array of fireworks will be lighting up our skies to produce a beautifully lit spectacle to watch with friends and family. While fireworks can be one of the most exciting things about Bonfire Night, they can also be dangerous. It's estimated that there are more than 40,000 house fires in the UK every single year on Bonfire Night as a result of poor bonfire safety knowledge.
To ensure you stay safe tonight, we've put together 10 essential tips about bonfire safety (with a couple of handy hints for pet owners too):
Bonfires
1. When lighting a bonfire, make sure that you leave plenty of space between any flammable objects such as plants, fences and sheds from the fire pit.
2. Never light a bonfire with any flammable substances such as petrol as this could lead to serious irreversible injuries and burns if an explosion was to happen.
3. Remember to always have a large tub or bucket of water around you at all times when you have a bonfire going in case of any emergencies.
4. Ensure that you and your guests are not wearing any loose clothing during bonfire night to minimise the risk of clothes potentially catching fire.
Fireworks
5. When reading the instructions for fireworks, always make sure you use a torch or flashlight from your mobile. Do NOT use a lighter or flame of any kind.
6. Never go near a firework after it has been lit, even if you feel it's taking a longer time to go off than usual, as it could start at any time!
7. If your child seems distressed by the noise of the fireworks, make sure to pop some noise cancelling headphones on to ensure that they can enjoy the night by listening to their favourite songs during the spectacle.
Sparklers
8. Remember to teach your child to hold their sparklers at arm's length so they can avoid any unwanted injuries or accidents.
9. Once the sparkler has gone out, dip it in a bucket of water and make sure your child doesn't touch it ever again as they can be very hot even if they're not lit up.
10. Do not use sparklers without wearing gloves to avoid getting burnt.
---
Keeping your pets safe and calm
As much as we value our own safety on Bonfire Night, we also need to take into consideration our beloved pets and animals. The celebrations that coincide with this time of year can be particularly stressful for pets. The loud bangs and strobe light flashes that come with fireworks often frighten an estimated 45 percent of dogs in the UK, the RPSCA claims.
One of the primary reasons as to why fireworks are terrifying for dogs in particular is the fact that they can hear four times the distance of a human and can also hear higher pitched sounds, at a frequency range of 67-45,000 Hz.
1. Walk your pets during the day to avoid times when fireworks are likely to be set off later in the evening.
2. Close your windows and curtains to reduce the flash effect of the fireworks and to muffle the sound of fireworks.
3. Turn on some music or TV to mask the sound of the fireworks being set off.
4. Create a quiet hiding den for your pet to hide under if they feel scared.
5. Give your pets toys and treats to take their focus off the loud bangs that fireworks create.
If you're still worried about your pet's health during Bonfire Night, the all natural dog food company, Edgard & Cooper, are launching a live chat service offering pet owners free advice on how to keep their dog calm. The chat service will run from 6pm to 11:30pm on Bonfire Night.
So, we would like to wish everyone a happy and safe Guy Fawkes night however you decide to celebrate it! Remember to dispose of your fireworks after you've finished using them… Have fun!
Be the first to receive FREE Teaching Resources (including helpful tips, guides and downloadable classroom goodies) by signing up to our mailing list at https://bit.ly/2NHk755!