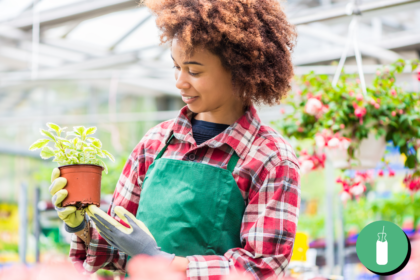 Owning an office plant can be really fulfilling, and not just because of the benefits that it may bring. The ritual of taking care of your very own living plant every day, and the beautiful aesthetics of having a green space can also bring you lots of excitement at work.
Placing a small plant on your desk makes your workday a little cheerier by bringing a bit of nature indoors. Office plants may even boost your creativity and make you feel more productive. Additionally, plants have been proven to increase the quality of indoor air! What's not to like? Read on and learn how to care for your very own office plant.
Watering
Be careful of improper watering – either too little or too much are usually the main culprits to blame when an office plant begins to look not so lively.
To ensure you get the best out of your office plant, water it slowly, ideally using lukewarm water. Never water your plant if the soil still feels damp from the previous watering. A general rule of thumb is if you stick a finger up to the first knuckle into your plant's soil and it's dry, then your little plant friend needs to be watered!
Lighting
Most plants can get by with very little light, but to help keep your plant healthy it's ideal to make sure you don't hide it away in your desk drawers!
Keep your plant out in light at all times – the best place to put it is next to a window where the natural sunlight can reach the plant through the day.
Keep your plant in suitable conditions!
Remember to keep your plant away from air conditioners, heating vents and any draughty windows!
Going on holiday? Don't forget about your plant!
If you're sick or on holiday, make sure to ask one of your co-workers to take care of your plant. Although some plants can tolerate a certain amount of neglect, too much avoidance may kill them.
Moving home
If all goes well and you follow these tips, you'll likely be wondering what to do when your plant begins to sprout out of the original container that it was planted in:
Move the plant to a container just a size larger – it may seem like a good idea to move the plant to a big container straight away, but all that damp potting mix can rot the roots and could eventually kill the plant.
To keep it healthy, transplant your desk plant often whenever they get too large for their pots.
At Milk Education, we give our schools the chance to grow their very own desk plant. We believe that hands-on experience with nurturing nature (even on a small scale) will contribute to classroom awareness of wider environmental issues and help teach our children some of the ways we can protect the planet.
To learn more about the work we do as an eco-friendly business, please visit our eco page and check out our eco charter.