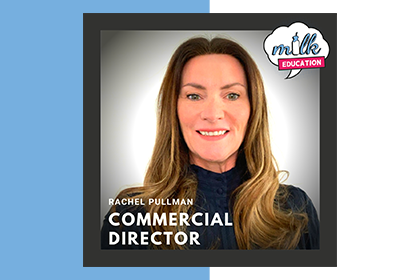 The past few months have been a rollercoaster, but there are ALWAYS silver linings.
Milk Education is delighted to announce that we have expanded the Board of Directors with Rachel Pullman being appointed as Commercial Director.
Rachel joins our business bringing a wealth of education experience and will add an unbelievable amount of value to both the Operations & Commercial Teams.
Managing Director Glen Walsh says "Rachel's experience and knowledge of both Recruitment and 17 years in the Education industry brings a great strength to our business and I am delighted to see her joining the board and driving the company forward. Her input will be hugely significant as we plan the next phase of the business' growth and expansion coming out of COVID-19"
The expansion of the board is another indication of the commitment Milk Education has to growing the business significantly over the coming years. Having experienced rapid growth since its inception; we have a clear to desire to keep that level of growth moving forward with Rachel by our side.
Our recruitment and staff development over the next few years will be key to our success and meeting our objectives. It is a very exciting time within the business and a great opportunity for all to develop along with the company.
Welcome to the Milk Family Rachel! Exciting times ahead.