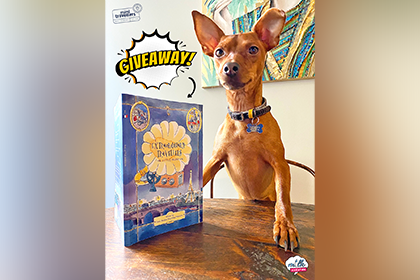 We are excited to announce that we have partnered with local-multi award winning family travel blog writer of Mini Travellers (www.minitravellers.co.uk) Karen Beddow and are launching a competition to give away five brand new copies of her brilliant children's book 'Extraordinary Travellers – The Little Museum', written to educate, inspire and entertain your pupils and to ultimately help them learn more about the world!
Take an adventure with your book worms!
The Little Museum is more than a children's story book. It allows you to dig deep into your imagination and be part of a journey full of fun, thrills (and even a little danger!)
The Little Museum is the first in the Extraordinary Travellers series and is a page-turning travel adventure story for boys and girls aged 8-11. There is a magic map, a clever invention and an exciting race through France, with a little bit of French thrown in for good measure.
When Lucy and her younger brother, Tom, find out their mum is part of a group of Extraordinary Travellers they have no idea how much their life is going to change and what adventure awaits them. Join them on their quest to discover why the Eiffel Tower has disappeared, what else the Little Museum is going to contain and why the President of France needs their mums' help to sort it all out.
This brand new book has been created by Karen Beddow of Mini Travellers, the multi award winning family travel blog with over 60,000 monthly views and Lyndsay Macaulay an education consultant with over a decade of experience working both in schools, colleges and schools publishing.
Karen & Lyndsay hope that the "Extraordinary Travellers" series will educate, inspire and entertain the children of those parents who want to teach their kids more about the world and inspire them to understand it.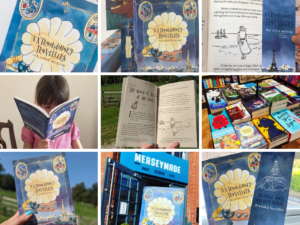 How can teachers develop learning opportunities with their students?
MFL Opportunities
From the very first chapter, your students will already be reading in two languages! Throughout the book, there are many opportunities to learn the french language (and also how to pronounce these words, meaning your french accents will be parfait!)
You will have opportunities to:
· Find out more about popular French food.
· Learn how to order a meal in a restaurant.
· Learn how to ask and give directions in French and how to buy tickets at a train station.
· Learn how to describe people in French (body parts and colours). Label a picture of Jacques and Sylvie (or other characters).
Creative Writing Opportunities
This isn't your average story book – you won't just be sat reading to your students. This is the chance for your students to get involved with their inner writer! The book inspires you to:
· Create a comic strip about the capture of the Eiffel Tower.
· Create a newspaper front page for the day following the disappearance of the Eiffel Tower in Paris.
· Write a diary entry for Sylvie Argent that describes how she felt after her successful plan to capture the Palais de Versailles.
· Make a tourist information leaflet about Mont Blanc.
· If you had a map and compass that could take you anywhere in the world, where would you go and why?
· Draw and write a character description for Jacques (or one of the other characters from the story).
Geography Opportunities
If your students didn't know where France was on the map before – they certainly will do now! Not only that, they will also:
· Locate famous cities/rivers/mountains on a map of France. Draw and label your own map of these landmarks.
· Look at a route map of the Tour de France www.netstorage.lequipe.fr/ASO/cycling_tdf/tour-de-france-2020-parcours-general.pdf . Using the colours on a map, can you work out which areas are at high level and which are lower level?
· Learn more about famous landmarks in Paris. What similar attractions do we have in our capital city?
History Opportunities
The Little Museum provides fun and enticing ways to bring history to life for young students. Make learning history fun by:
· Finding out more about the Palais de Versailles. Go on a Google expedition and use the official website to explore the building.
· Watch Horrible Histories wife swap with Marie Antoinette and Louis XVI. Why did the French peasants not like the king and queen?  Find out about the French Revolution https://kids.britannica.com/kids/article/French-Revolution/353712
Art/DT Opportunities
Unleash your students' creative side and let their imagination run free! Throughout The Little Museum, you will be inspired to get stuck into some exciting arts and crafts including:
· Creating a model shrinking machine out of a cardboard box and a card funnel. Can you design a cams mechanism with a handle that rotates the trumpet?
· Create a model of the Eiffel Tower out of art straws/lolly pop sticks or similar.
· Look at a range of paintings of mountains. Create your own landscape picture of Mont Blanc.
· Find out about French artists: Matisse, Rousseau, Degas, Monet, Renoir, Cezanne, Tavernier or Gwen John (not French but lived in France) using resources on www.twinkl.co.uk. Create your own masterpiece in their style.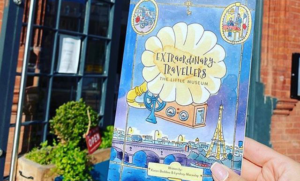 I need to get my class involved with this asap! How do I enter the competition?
Whisk your students on the adventure of a lifetime with the Little Museum!
TO BE IN WITH A CHANCE OF WINNING:
Head over to our Facebook page www.facebook.com/MilkEducation:
1) Like & Share our pinned post!
2) Like our page (bonus entry if you tag a teacher!)
OR
Head over to our Twitter page www.twitter.com/MilkEducation:
1) Like & Retweet our pinned post!
2) Follow our page
(You can enter both ways for a double chance of winning!!) Giveaway ends 1st December 2020!
Don't worry if you want to purchase more for your class! They are available to buy from www.minitravellers.co.uk/product/the-little-museum-a-childrens-mystery-adventure/.
If you type in 'Milk' as the coupon code, the books are only £5.99 each! Drop us an email if you would like to bulk buy for the whole class as we also have some special offers!