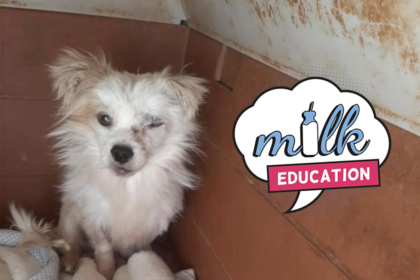 Milk Education is celebrating National Pet Day with an exciting announcement!
Meet Popcorn, who has just secured a passport & place on the 'Happy Bus' from Spain to Milk Education's HQ in Liverpool!
This will be the 3rd Rescue Dog in 3 years that Milk has brought into the Family, and we do not plan on stopping there!
Milk's mission is to MAKE A DIFFERENCE in more ways than one, their referral scheme (Refer a teacher) even encompasses these values and asks teachers if they want to plant a tree, buy a school uniform for a child who needs it, or donate to a local animal shelter.
Emma Walsh, Milk's Operations Director says "We just fell in love with him as soon as we saw him and heard his story. Due to his illness & eye removal, he was being overlooked in the shelter, but this is just our type of Doggo! We're lucky to have such a caring team at Milk, who will be a part of his recovery process in the office. From darkness to light, he will be well cared for here."
Popcorn was rescued by Paws on Hearts, a rescue shelter ran by three Northern women Debbie, Lisa & Pippa. The Paws charity was called to the rescue scene where there were many severely neglected animals needing immediate veterinary care – Popcorn being one of them. The condition he was in meant that he had to undergo surgery to remove his eye and be put on lifelong medication to recover from internal infections. Lisa says, "We have a huge soft spot for Popcorn, he is so sweet & just wants a warm bed and love, after being so mistreated, he has the biggest heart and still trusts easily."
Popcorn will arrive next month where he will join the Milk Team with open arms.
To follow his story to his new home & Job as 'Business Wellness Coordinator", make sure you are following Milk's Facebook & Instagram pages, listed below.