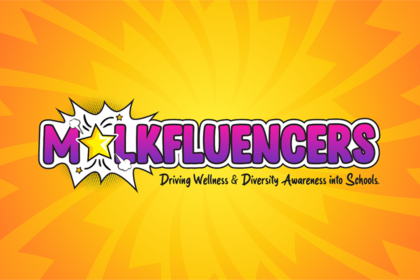 Superhero Day is here to remind people all over the world that superheroes can come in any shape, size, or colour, and being one is more about valour of the heart than having actual super-powers.
Superhero Day is the perfect time to let the heroes of this life be identified and celebrated!
Our Milkfluencers are exclusive to Milk Education and have been selected to educate and influence students and teachers on positive change and become courageous, informed, resilient, and make a change to all the generations now and that will follow them!
The pandemic has been extremely difficult for teachers, and education leaders, but imagine how it has affected the children. More time away from friends, learning, growing, changing, and having to cope with extreme change.
Now back at school, our aim is to encourage recovery through wellness, support and learning from influencers that tackle stigmas around mental health, racism, diversity, disability, LGBTQ+ and face it head on. They are encouraging local communities to make positive change, and 'educate before they discriminate'. But more importantly, these Milkfluencers know what it is like to stand out and embrace their differences. They teach children that it is ok to talk, speak out, show emotion, and share their feelings, and be their authentic selves.
That is what we love here at Milk, embracing our differences and showing our true eccentricity.
There are no fancy filters when it comes to our Milkfluencers… our goal is to expand even further, creating a club of mighty Milkfluencers to educate and inspire children. We proudly support diversity, and we are ready to make a difference in a school near you!
In just 6 Weeks, our real-life superheroes have met with over 10,000 local children…
Milk Education has provided numerous free workshops for Primary, Secondary and SEND schools online, to talk about standing up proud and fighting the stigmas around mental health & diversity.
Superhero Day first got its start in 1995, when Marvel Comics employees went out into the world to ask kids what superpowers they would want to have if it were possible. The results surprisingly revealed that these kids ended up talking more about superheroes in their own lives. This is exactly who are Milkfluencers are – superheroes in disguise who rise to the occasion and are seen as an ideal that can be passed on and practiced in the daily lives of others.
Ben Davie, our Sports Coach, is a regular with our schools with his online workouts and has most recently hosted 'SEN with BEN' for Autism Awareness Week – and for Comic Relief, our Mental Health Milkfluencer, Thomas Minns, launched a free Mental Health workshop (with some amazing feedback from our schools and students!) Our Netball Captain and Sky Sports Star, Sophie Morgan, presented an inspiring Women in Sports workshop for International Women's Week and this week we are excited to have aspiring Paralympian, Keira Forsythe present a workshop for Limb Loss and Limb Difference Awareness Month! We also have some exciting free workshops over the next few months with our Inclusion and Diversity Advocate, Loti Nambombe, LGBTQ+ Ambassador, Charlie Butcher and Youth Violence Prevention Ambassador, Jamie Pilling so make sure you are following us on our social accounts to sign up! At Milk, we believe inclusivity is key in developing a sense of pride, contribution, and development. Not just for students, but for teachers too!
---
Milkfluencers
Make sure you are following Milk Education on our social media accounts for the latest updates on our Milkfluencer Workshops!