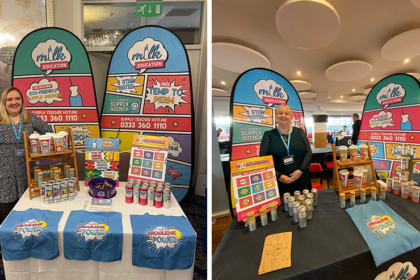 Our pop up banners are back in action as face-to-face conferences are back! But there's even more to tell you about!
If you aren't already following our socials, start now, you don't want to miss our latest news alert launching in 14 days (yes, we are counting!)
Firstly, Education Conferences are back!
It was really nice to be able to attend the St Helens Headteachers conference at Thornton Hall Hotel. Due to the pandemic, we haven't been able to meet the schools for around 18 months and everyone was happy to be there and socialisng with each other again.

Hayley (Principal Consultant)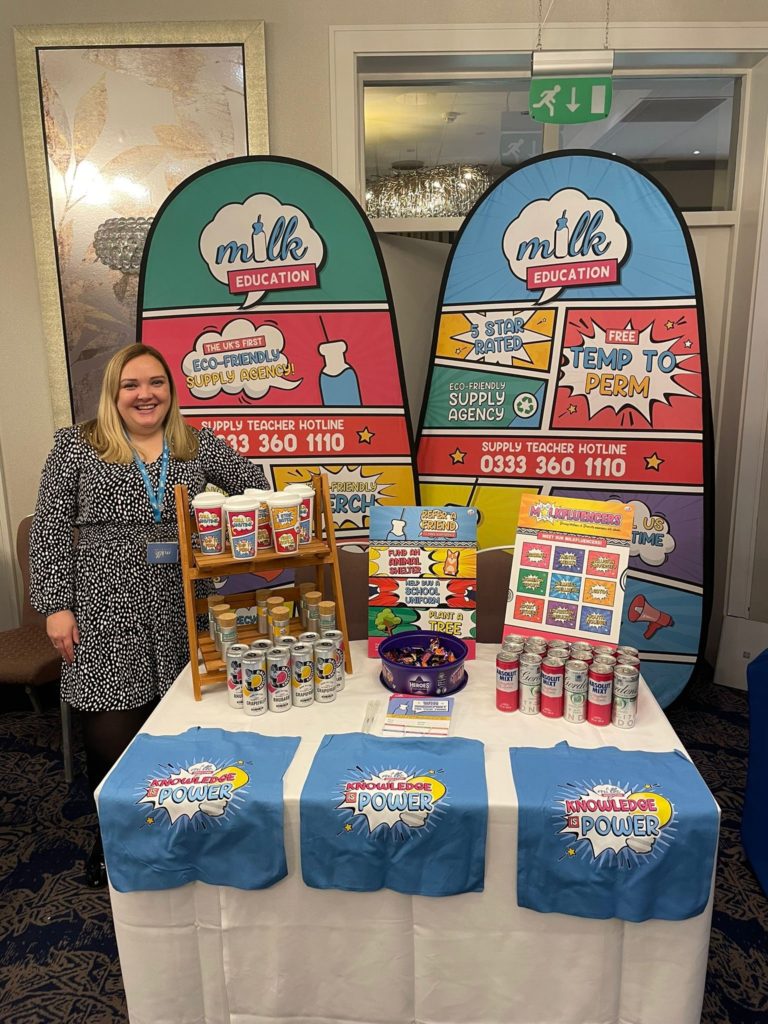 Our Milksters have been back out at conferences this month – meeting business managers and head teachers face-to-face, like the good-old days! Since the start of the pandemic, the restrictions have meant that meetings in "real life" had to take a break.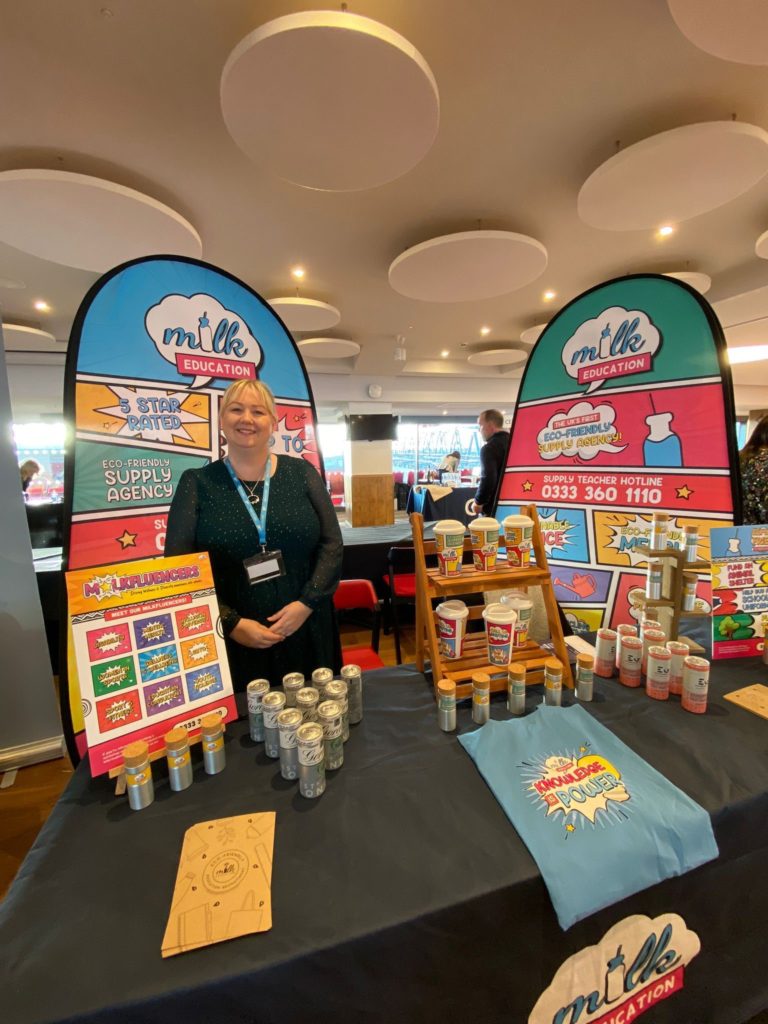 With lots of updates on Milkfluencers, our Refer-a-friend scheme, our eco-friendly pledge… and much more! Our consultants Nicola, Kelisha and Hayley were excited to get to the conferences and network with business managers, and head teachers – finally being able to meet and greet with people they've only seen over the screen or phone!
The feedback for our stand was positive and the Headteachers were eager to speak with us again with it being such a long time since we had all seen each other. The feedback for the competition we had running was also very positive, and of course our merchandise free cocktail cans went down a treat…

Hayley (Principal Consultant)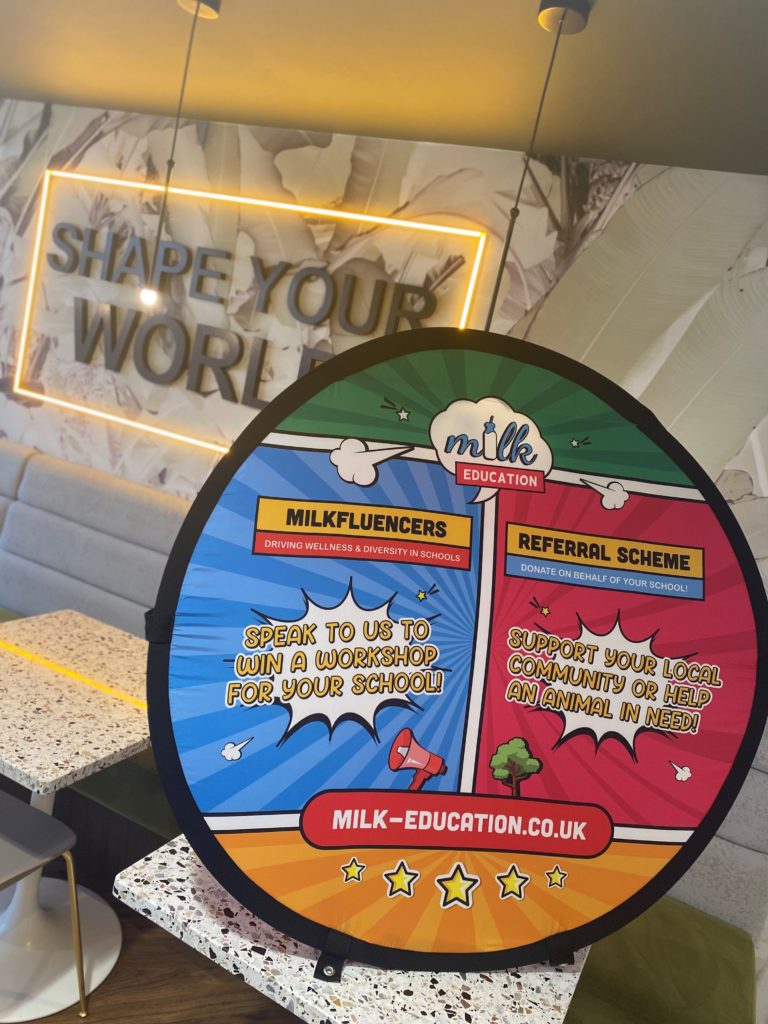 Back to school for the dogs… and our consultants!
The Milksters have been introducing themselves to new schools, and finally visiting those schools that they've missed! Being able to be shown round the schools where our amazing teachers and TAs work every day, representing us!
Our doggy wellbeing visits have started too! Elvis our Newcastle office dog has been making the rounds across schools, bringing the children some happiness and fun in between schoolwork! Our other offices dogs (there's 9 in total!) will be following in Elvis' pawprints, and bringing joy and cuddles to schools very soon!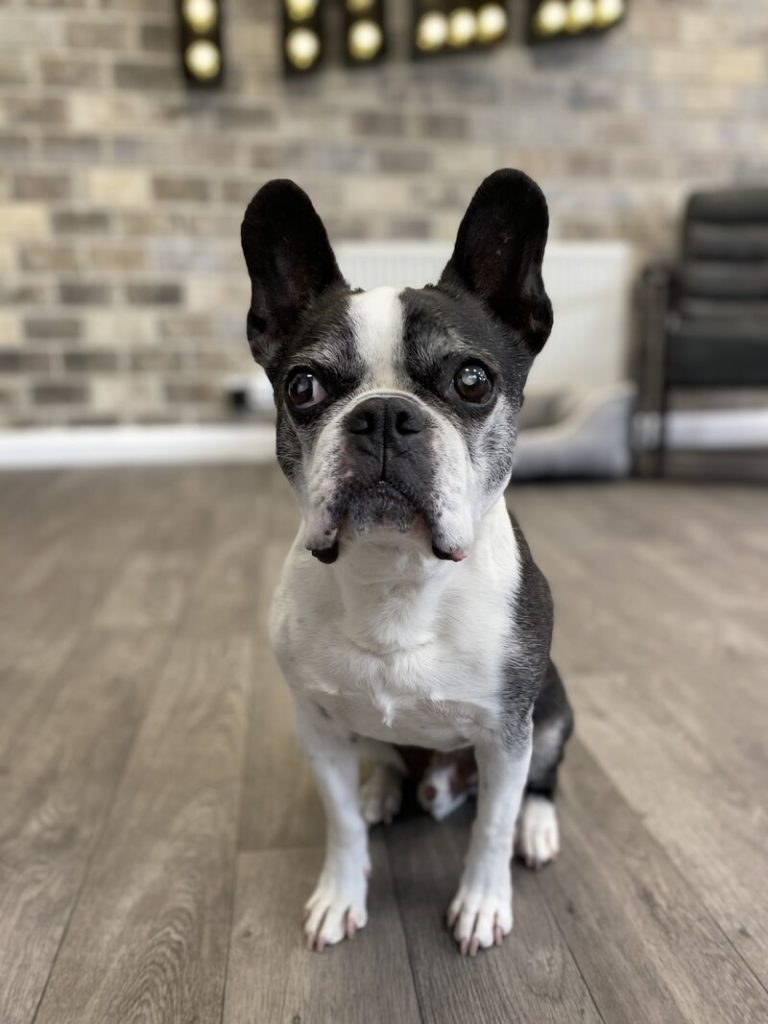 See more about the visits here…
Milkfluencers are going into schools educating pupils on Diversity and Inclusion!
Our Milkfluencers are being booked now more than ever! As it's Black History Month and National Bullying Prevention Month, our Diversity & Inclusion trainer Loti (TAG) has been busy with bookings – going into schools across the North West to help combat racism, bullying, and stigmas around diversity!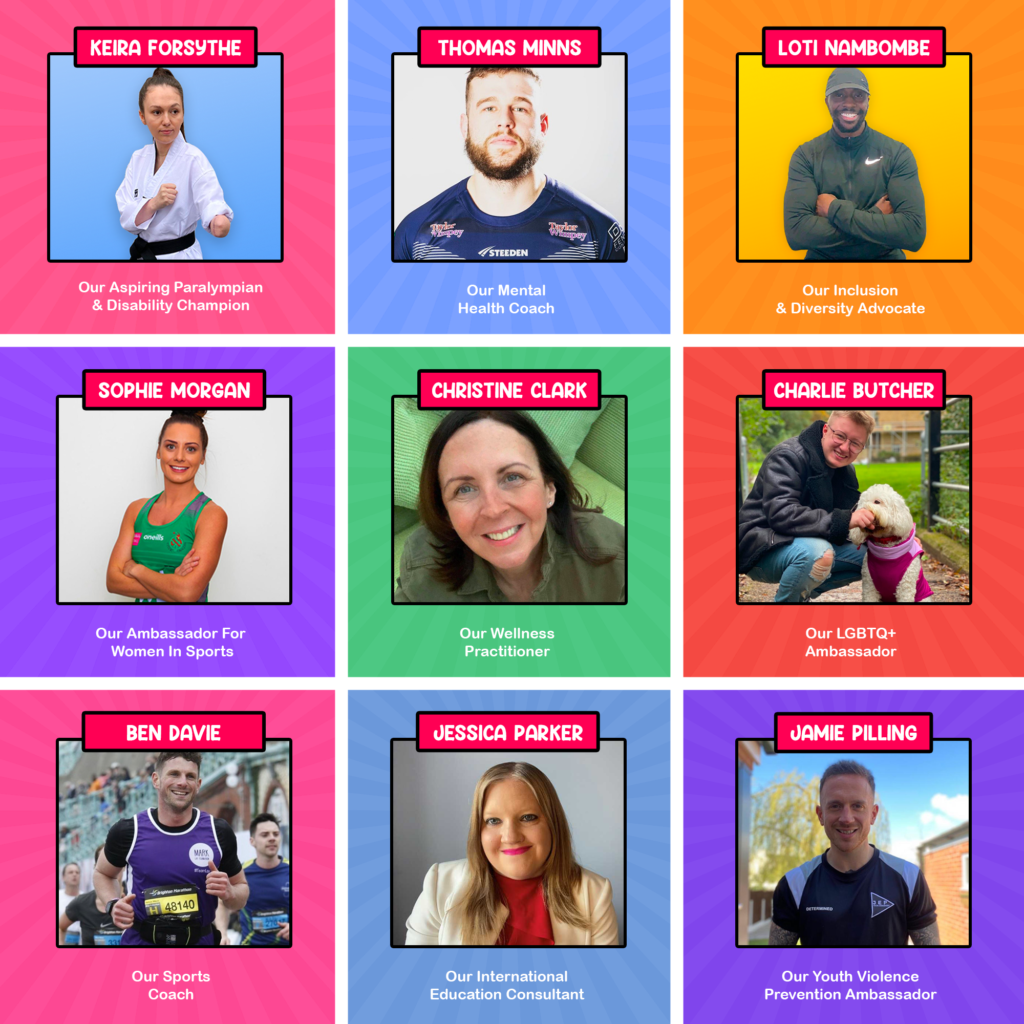 All of our Milkfluencers cover vital topics for schools – click here to read about our Mental Health, LGBTQ+, and Wellbeing ambassadors…
Now's the time! Help your school pupils, and help us help the community!
Media Coverage
Our offices are getting a lot of attention – the BBC popped in for a chat the other day, and we've got multiple news articles in the process about our office move and office dog culture! We've been in the news a few times, and our deliberately different workspaces in Liverpool and across the UK do attract a bit of attention!
Keep your eyes peeled for some great coverage of our office dogs and our Milksters!
Christmas Party
Our Christmas party has been officially booked! We can't wait to celebrate as a team – after not being able to do our awards… and celebrate all of our successes properly.
We'll finally be together as a whole group! With all of our new hires, and working across offices (Liverpool, Manchester, Sheffield & Newcastle!) – a lot of us haven't actually met yet!
Christmas will come around sooner than you think!
We're growing…
We are expanding our teams, our offices AND our goals! Our Liverpool HQ is moving on up in the education recruitment sector… moving to a bigger office space with even more quirks than before! Our 5 office dogs will love finding their feet on our brand new DANCE FLOOR!
More to be revealed soon… read our new blog!
What's next?
We can't wait for the growth of face-to-face events and meetings, and hope that we can continue to collaborate with our amazing schools and mix with new schools!
Want to work with an education agency that values your local community as much as you do?
Reach out to us today!
Call: 0151 519 0800
Email: info@milk-education.co.uk