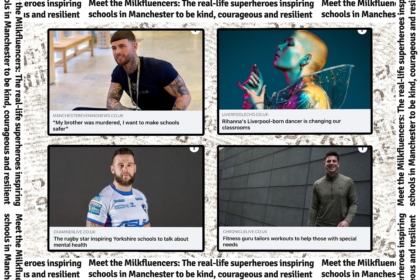 "Not all heroes wear capes – some inspire the minds of the future to shape a happier world for everyone"
Our diversity and wellness ambassadors are fighting stigmas and taking the UK education sector by storm…
'Meet the Milkfluencers: The real-life superheroes inspiring schools in Manchester to be kind, courageous and resilient'
Read all about it! Links below…
The Milk Ambassadors Are Featured In:
Manchester Evening News
Liverpool Echo
Chronicle Live
Yorkshire Live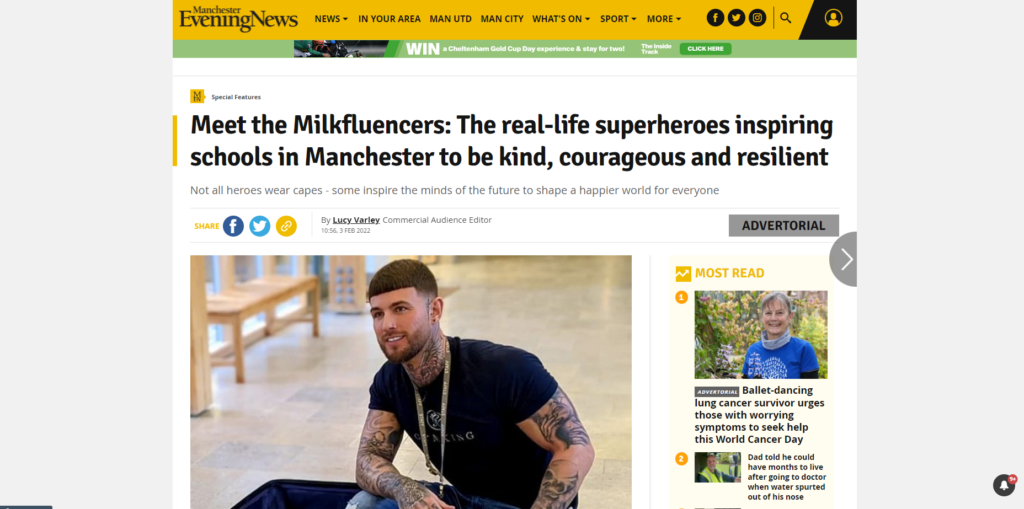 What are we doing in Manchester?
Tackling racism and championing diversity with Loti Nambombe
No more knives with Byron Highton
Fighting the LGTQ2+ stigma with Charlie Butcher
Mental health matters with Jessica Parker
The best way to describe it to people, when you see someone you love killed in such a horrific way, is a part of your soul gets ripped out.

I still haven't found that part I lost that day, and I don't think I ever will. I wouldn't wish this pain on the people who did this to my brother.

When I speak to the school kids, they feel the presence in the room. They feel my emotions. I'm pouring my heart out, and in return I'm getting their heart back.

I'm keeping my brother's name alive every single day, and it puts a smile on my face for once.

Byron Highton – our anti-knife crime ambassador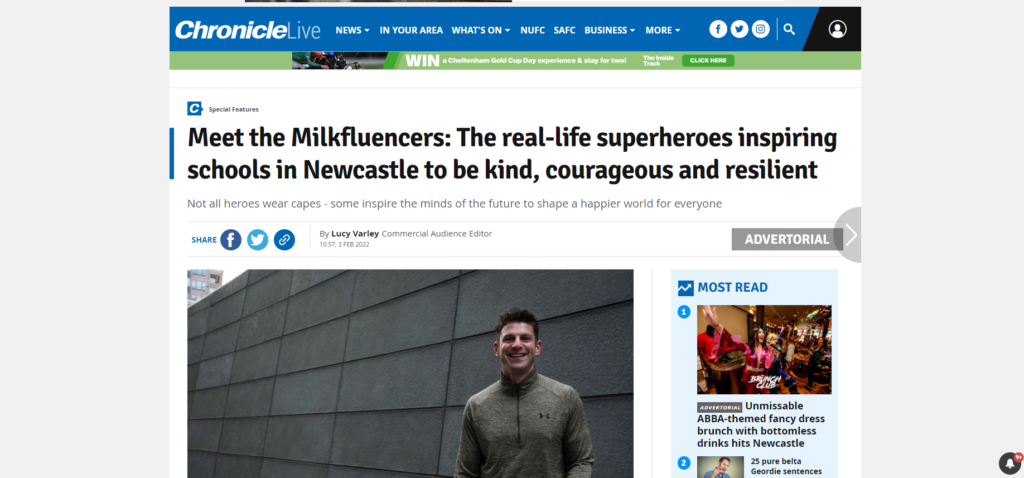 What are we doing in Newcastle?
Fighting back on the disability stigma with Keira Forsythe
Fighting the LGBTQ2+ stigma with Charlie Butcher
Changing the stereotypes around physical fitness and well-being with Ben Davie
My arm represents seven years of pain, medicine and surgeries, and I wear my scar now with pride. I call my left arm Stumpy, and he goes absolutely everywhere with me, because we're connected.

We like to show people that we can do everything that I did with two arms, and in fact I've learnt to do things I never would have done with both arms.

Having stumpy allowed me to do the impossible every single day.

It's so important to teach students that they do have resilience within them.

Keira Forsythe – Our disability champion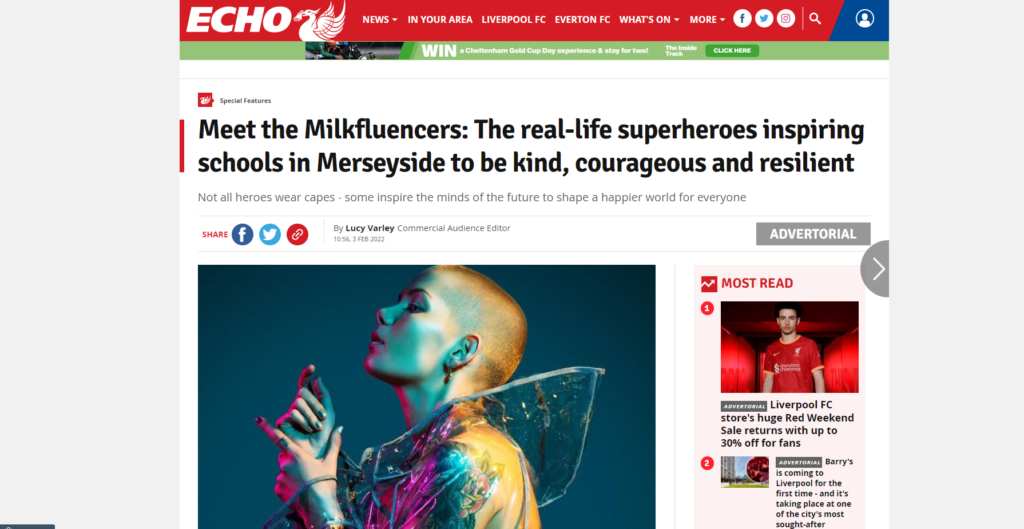 What are we doing in Liverpool?
Challenging boundaries with Alyx Steele
No more knives with Byron Highton
Stamping out youth violence with Jamie Pilling
Mental health matters with Christine Clark
If you can dream it, then you can achieve it. It's going to take work and sacrifice, but if you love what you do then it's important that you pursue it.

When I was young I used to tell myself: "If that person can dance for Janet Jackson, then so can I.

I believe dance is the most powerful form of expression, it has been a lifeline for me both physically and mentally. To wake up and dance every day is a blessing. To have something in your life that you love so much is a blessing.

Children need to have a creative outlet and dance is perfect for that. It's also amazing to be part of a community or team and feel that sense of togetherness.

Alyx Steele – Our choreography queen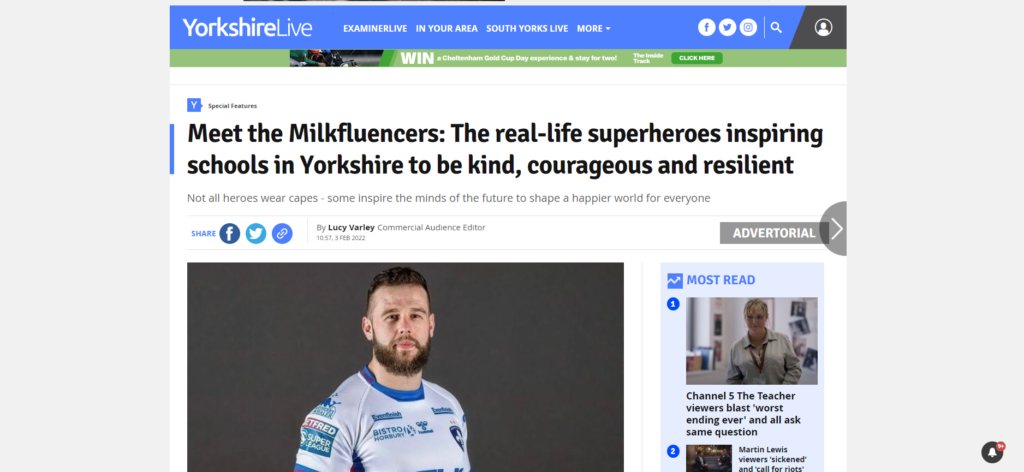 What are we doing in Sheffield?
Mental health matters with Thomas Minns
Fighting the LGBTQ2+ stigma with Charlie Butcher
Tackling racism and championing diversity with Loti Nambombe
Schools aren't doing enough to tackle racism. You've got to tackle the uncomfortable. To be comfortable and to be anti-racist and diverse, you have to do the uncomfortable.

That's what schools aren't doing, that's what they're worried about. There's so much more we can do to tackle racism.

I think schools focus on events such as Black History Month, but what do they do afterwards? It's time that school's looked into it, and spent more time delving into it to really tackle it.

It's not just about anti-racism, it's about education and celebration of Black culture.

Loti Nambombe
So, what's next for the Milkfluencers?
It's time to book these positive influencers for your school! It's more important than ever to tackle these issues… don't sit back and let these stigmas stick.
Call us today and ask how we can help your school: 0333 360 1110
Whether your students are struggling with a specific topic, you want to raise awareness, or you want to prevent these issues before they start… The Milk Influencers can help.
Click below for more information…