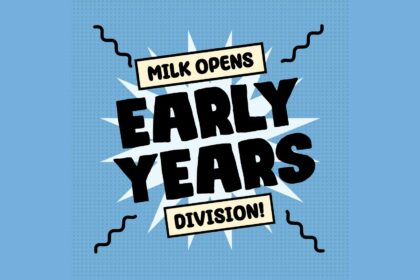 Milk is growing once again…
We've just opened our Early Years Division in the North, now recruiting for Nurseries and Early Years roles across our Northern offices!
At Milk Education, we now cover education roles from Early Years, to Higher Education.
Whatever your supply recruitment needs – we've got you!
Why are we opening our first Early Years Division at Milk?
It's happening! Click here to read more and get in contact.
Early years education plays a crucial role in a child's development, so we know how important it is to focus on this important stage of learning.
We want to cover all bases in education recruitment, and ensure we can place the ideal candidates into your school – with the right experience, and the right fit.
Early years was naturally the next step for us!
Working with a value-add supply agency
Need top education talent in advance or at the last minute? Look no further…
Finding the right educators for your school at short notice can be challenging and disruptive…but not when you partner with Milk.
Our teams are experts at what they do. With their extensive experience in education recruitment, they can identify the ideal talent for your needs and add value to your school!
Whether that's for Early Years, Primary, Secondary, Further Education or Higher Education – our consultants have specialist experience to help you in the best possible way.
We work across the North to help match schools and educators, and make a difference in local areas!
At Milk, we are passionate about representing value-add and purpose-driven education talent from your local areas! We have a dedicated candidate care team who ensure the onboarding process is smooth and straightforward but still in-depth… so our educators are cleared quickly, thoroughly, and are aligned with your school values and mission.
Whether you are looking for short term supply staff or something more long term – our Milk consultants will work with you to source the right person, and the right match to seamlessly fit into your school. 
What roles do we cover?
Early Years
Primary Teachers
Secondary Teachers
SEND Teachers
Teaching Assistants
Learning Support Assistants
SEND Support
Cover Supervisors
Tutors
Exam Invigilators
The benefits of working with Milk Education supply agency
Working with a supply agency can provide several benefits for schools. Here are some of the advantages…
Access to Qualified and Experienced Staff: We have a pool of great talent for your school, which means you can quickly find suitable replacements for absent teachers or recruit additional people during busy periods.
Flexibility and Reliability: Schools face various situations where they require temporary staff, such as teacher absences… we can offer last minute talented staff that will seamlessly integrate into the school's existing programs and routines.
Time and Cost Savings: schools can save time and effort on the recruitment process. Agencies handle the initial screening, selection, and placement of suitable candidates.
Specialised Expertise: Supply agencies often have a wide range of educators with diverse skill sets and expertise. We can help match schools with educators who have the necessary qualifications and experience to meet specific requirements.
Smooth Transition During Staff Absences: When a teacher is absent, it is essential to maintain continuity in the learning process. We can help minimise disruptions and ensure that students' educational needs are met.
And much more!
Get in touch to find out more about the benefits of partnering with us here at Milk.
It's key to choose a reliable supply agency when looking to recruit education talent!
Here at Milk, we are deliberately different and truly care about our clients and candidates.
What now?
If you're looking for dedicated and purpose-driven teachers, TAs and support talent for your school… This is your sign!
Get in touch with us today on:
0333 360 1110 info@milk-education.co.uk